---
Relief From headache
Gel Hot Cold Therapy Ice Cap For Relieve Pain Ice Hat Eye Mask.It will help battle migraines and headaches.
Features: 
20% More Coverage Area than Regular Migraine Ice Head Wrap - Upgraded with 20% more gel around, ice beanie nearly cover whole head from front to back. 360° full coverage headache ice pack can be worn over or pulled down to sooth tension. Hair can be pulled through the top so coldness and pressure can reach to scalp directly.
Comfortable and Instant Relief - Thick ice pack for head works by coldness and compression to relieve pain. Thanks to innovation malleable gel and stretchable Lycra, these highly elastic materials make ice cap flexible and perfectly snug-fit on head even frozen. The cold compression from ice hats for migraines pushing in on the head really help.
Upgraded Form Tailoring - Migraine head wrap with unique shape design is fill with thick cutting-edge gel. Also dark color headache ice pack head wrap can block up light when relaxing. A must have for releasing head pain, puffy eyes, bruise, swelling, sore, tension, sinus headache when lying on bed.
The Migraine Relief Hat headache hat
 is only available online and is not sold in 
STORES.
 We love being exclusive and providing best products. We are currently facing extremely high 
DEMAND
 for this product and stock is running low.
PACKAGE INCLUDES:
1 pc * Migraine Relief Hat headache hat
CLICK 'Add To Cart' ABOVE TO GET YOURS!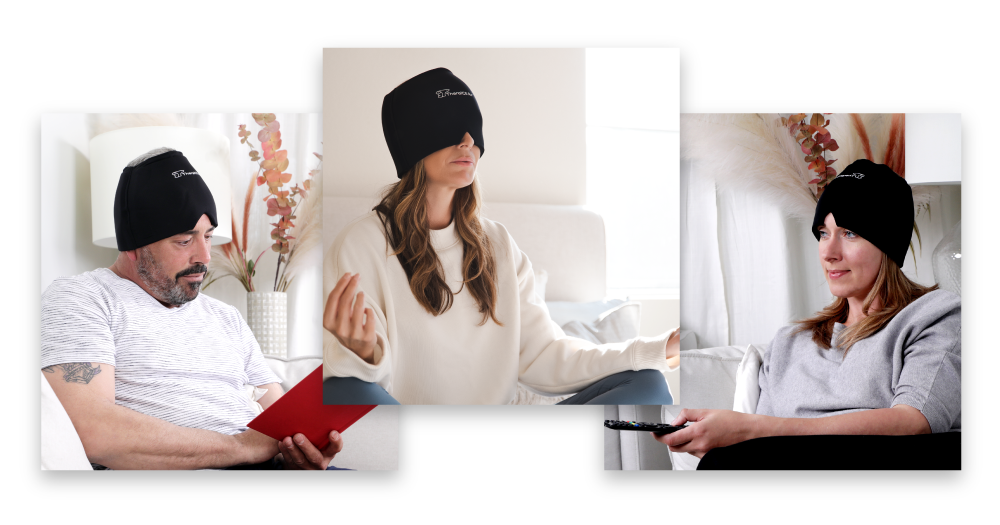 OUR GUARANTEE
We believe our products are some of the best in the world. To back this up, we provide all customers with a 30-day RISK-FREE warranty. We understand buying items online can sometimes be a daunting task and want you to feel certain that there is ZERO risk shopping at Minted Med. Our customer service support is available 24/7 and is ready to answer any queries you have.
-We always put our customers first and do our best to resolve any issues that our customers may experience with their online orders. Any product you return must be in the same condition you received it, in the original packaging, and must be within 14 calendar days of the delivery date. Please keep the email receipt. For more assistance, send us an email through the Contact Us page above and a customer representative will be more than happy to help you out.
Yes! Every order comes with a tracking number and can be easily tracked straight from our website. That way you can always know your package is safe and on its way to your doorstep.
We are extremely sorry to hear that! Unfortunately sometimes shipping companies may be careless during transit and it is out of our control. Just send us a picture of the damaged item and we'll send you a replacement item as soon as possible!